‹ Back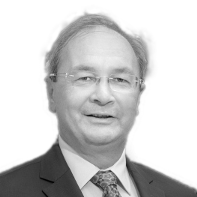 Prof. Dr. Lucien
Hoffmann
Director of Environmental Research and Innovation department, Luxembourg Institute of Science and Technology, Department 'Environmental Research and Innovation'
CV
Lucien Hoffmann (PhD in Biology) is director of the Environmental Research and Innovation (ERIN)… (
more
)
Lucien Hoffmann (PhD in Biology) is director of the Environmental Research and Innovation (ERIN) department (http://www.list.lu/en/erin/ ) at the Luxembourg Institute of Science and Technology (LIST). The ambition of the ERIN department is to implement a smart green vision, accelerating innovation towards the sustainable management of natural resources and a circular economy. The ERIN department brings together with its teams made of 190 life, environmental, and IT scientists and engineers, the necessary interdisciplinary knowledge and skills to tackle major environmental challenges our cities are facing today: climate change mitigation, ecosystem resilience, sustainable energy systems, efficient use of renewable resources, environmental pollution prevention and control. Triggered by a galloping socio-economic development for more than a century, changes in climate and land use are now unfolding at an unprecedented pace. There is tangible evidence of an increase in extreme weather events and a subsequent cohort of impacts on (agro-)ecosystem functioning and associated services. But, environmental systems are of intricate complexity and anticipating their response to global change poses manifold challenges – with conventional environmental monitoring, forecasting and prediction tools being increasingly applied close to and even beyond their design limits. There is an urgent need for overcoming prevailing technological limitations in both environmental monitoring and modelling. By improving the mechanistic understanding of environmental systems under change, LIST's researchers develop tools and technologies to better anticipate complex feedbacks in the soil-plant-atmosphere continuum and eventually design and implement sustainable management strategies of natural resources. One of the foci of the department is on pressing questions related to (i) how eco-hydrosystems collect, store, mix and release water, solutes and matter, (ii) new environmental monitoring tools operating at unprecedented spatial and temporal scales and (iii) forecasting and predicting our water futures, as expressed through floods, drinking water availability, water for agriculture, or ecosystem services.
Abstract
Abstract:
Water resources management (WRM) is a key global challenge. Water is essential to life through… (
more
)
Water resources management (WRM) is a key global challenge. Water is essential to life through drinking water and sanitation and is fundamental to the provision of food, energy, and health. Extremes of the water cycle (floods and droughts) can have tremendous impacts on all human activities, especially for vulnerable populations. Water is therefore of central importance to development and has been recognized as one of the United Nations Sustainable Development Goals. The exponential growth of satellite based information over the past decade provides unprecedented opportunities to support and improve WRM. Furthermore, traditional barriers to the access and usage of satellite data are lowering as technological innovations provide opportunities to manage and deliver this wealth of information to a wider audience. Satellite remote sensing is thus increasingly being used as a complementary source of information to in situ monitoring networks and, in many cases, is the only feasible source. Satellite‐based sensors are now capable of making direct and indirect measurements of nearly all components of the hydrological cycle. These include precipitation, evaporation, lake and river levels, surface water, soil moisture, snow, and total water storage. These sensors are therefore capable of providing critical information in support of managing water and monitoring the evolution of hazards and their impacts. Although some of these satellite remote sensing products are in their infancy and although there are limitations, the large spatial coverage and high temporal resolution mean that they can provide near‐global information in near real time. We review the state‐of‐the‐art for relevant variables, current satellite missions, and products, how they can be used to assess and monitor water resources. This will be exemplified by actual uses of Earth observation satellite products for agricultural water management, for support services to the provision of input for basin-wide water resources information systems, as well as for flood risks management (understanding disaster risk in all its dimensions of vulnerability, exposure of persons and assets, hazard characteristics, enhancing disaster preparedness, strengthening emergency response, contributing to disaster risk reduction by improving resilience).